Adornetto's - The Place to Get Homemade Italian Food in a Small Town
Wednesday, May 22, 2019 by Paige Grubb
Have you ever had the pizza people come home for? If not, you should stopby Adornetto's. They have so many great options to choose from. Along withtheir great options, they have awesome features such as food quality,service location, and even some interesting history.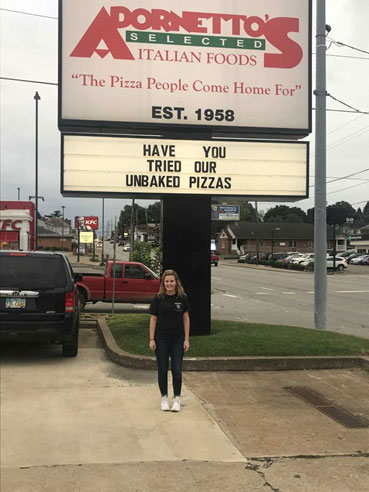 The food quality is one of the best considering almost everything is madefresh daily. Also, they are in the Top 100 for Pizzas in the Nation by Pizza Today Magazine. One of the things that they make fresh istheir pizza dough, which comes in regular and sweet honey wheat. They alsomake their pastas, which include homemade meatballs, different sauces, andhomemade pasta noodles. Lettuce and cheese for the salads are cut fresheach day to ensure the customers are satisfied with the products that theyorder. They are also one of the few restaurants that make their food fromscratch instead of using frozen or pre-made. Not only do they focus on foodquality, they focus on customer service as well.
Customer service is key to the Adornetto family. Their saying is "Customersfirst." The business teaches each employee to work in a timely manner, workas a family, respect the customer's wishes upon any request, and alwaysthank the customers for their service and invite them to come back againand again. The service at Adornetto's brings people back to Zanesville.They have people come back and tell them they had to visit their restaurantwhile they were in town because they love the food. People tell them thatthey crave their dishes and cannot wait to come back to town to get them.The company would love to have everyone come and would love to hear abouttheir experience. This restaurant is very family oriented and always hasbeen ever since Mr. Jimmy Adornetto opened up shop.
Jimmy Adornetto opened up the restaurant in 1958 with the help of hisparents, Phillip and Catherine Adornetto. His restaurant was the fifthrestaurant to open on the Maple Ave. stretch, and today there are more thanfifty food establishments on the stretch. In the last 40 years they havemade only minor changes to the menu. It is mostly everything Jimmy startedthe business with and is still made in the old-fashioned Italian way. Therestaurant has always been a family-based restaurant; they want everyone'sfamily to come out and enjoy a nice meal and have a wonderful time withfriends and family while doing so. Along with being a family-orientedrestaurant, they also have a friendly location that is easily accessible.
The restaurant is located right on the strip of Maple Ave. It is very easyto find and is in a great location. The location opens for dinner at 4:00p.m. Monday through Thursday and closes at 10:00 p.m. Friday and Saturdaythey also open at 4:00 p.m. and close at 11:00 p.m. If you're in town tovisit on Sunday, they open at 11:30 a.m. and close at 10:00 p.m. It's asafe and friendly location for everyone to visit. The inside is verybeautiful, as well; it gives you the opportunity to relax while you visitand enjoy a great homemade meal. It is a very clean and tidyrestaurant—they care what their customers think of them. If you decide togo visit and you would like to have some of their tastes to take with you,they have some retail products that you would love. They sell their Italiandressing in bottles, along with jars of their version of savory pastasauce. They also do their pizzas in unbaked style: they come in three sizesand with any toppings you would like. Also, if you would like a gift forsomeone to use to come see the great location, they sell their gift cards;just ask one of their employees, who will gladly help. The restaurant wouldlike to invite everyone to come try the tastes of their homemade Italianfood.
My reasoning for telling you about Adornetto's is because it has many greatoptions, and they would love to have everyone come give their food a try.It is a great place to visit, with their great food quality, customerservice, and family-friendly location, whether it's just a few of yourfriends and family or a whole group of people. This restaurant cares foreveryone's wishes and loves to hear the feedback about their products andservice. I have been with this family-owned restaurant for a few years nowand love every minute of being a part of their family. It is an awesomeplace to visit and has the great option of dining in or ordering at thedrive-thru. I would like to persuade you to come visit the place where youcan get "The Pizza People Come Home For" and tell them about yourexperience. I hope you have a wonderful experience just like they wisheveryone does. They hope to see everyone in their wonderful dining roomeating mouth-watering homemade Italian food.